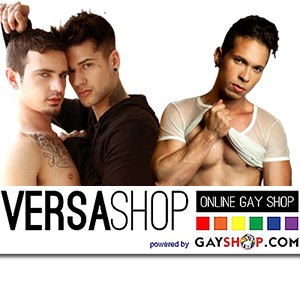 Are you at least 18 years old?
You must verify that you are 18 years of age or older to enter this site.
Sneaker Sex I: Kick it, feel it, lick it DVD (Sneaker Sex)

Your data is safe!

We ship world-wide!

Your right to return!
A young man experiences the fulfilment of his sexual fantasies in an interactive cybecabin. They are fetishist revolving around the feet, sport-socks, sneakers and boots. He can order these objects by accessing the "feel it" mode on the screen. There is also the possibility for him to beam him self into the movie clips that are being shown in order to have sex with the sport or army style clad of young men. Thus he witnesses first hand how an apprentice is forced to caress the feet of his boss, who later on during this encounter pours beer over him. While the apprentice has to suck the co-workers cock, his other colleagues fondle him with their feet in white and grey socks.
Running Time: 90 min
Starring: Daniel, Jens, Erik, Wolfgang, Frank, Jimmy, Cyrillus, Tapio, Benno, Martin, Felix
Director: Oliver Lück
Studio: Sneaker Sex
Categories: DVDs & Media DVDs Fetish Sneakers Socks
This is a PAL compatible DVD (Europe, Asia, world-wide);
Note for Customers in North America: Some older or cheaper DVD players in North America may not support PAL or may require a manual setting to PAL. Please check the manual of your DVD player or use the DVD drive in your computer to watch this DVD!
PAL compatible DVD players are available in the US for as little as $30. Just search for 'PAL DVD player' on Amazon, eBay or other shopping sites.